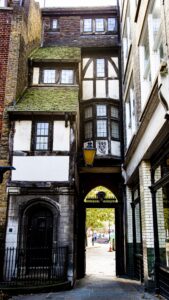 Secret Spaces in the City, from Blackfriars to St Barts
Walk begins:  Blackfriars Station  EC4 2BB
Walk ends: St Bartholomew the Great EC1A 7JQ
Duration: 90 minutes
Accessibility: Not suitable for people with decreased mobility
You may have lived in London for many years but this walk will open your eyes to places you may have overlooked. Join Patrick Molloy to explore quiet alleyways, tranquil gardens and undiscovered squares. Once you have discovered them you'll want to return with friends and family, to share a coffee or a snack and contemplate the secrets of London's fascinating history.
What did Stuart Londoners use to get rid of wrinkles?
Who were the stinkards?
What is an English Queen supposed to have done to punish her gay husband?
Stand in the place of London's public executions and see the church which has the bell which tolled for the condemned.
See the tower built to guard against sinning body-snatchers and the site of a Plague burial pit
Visit a saintly medieval church in London, used as a film set for Four Weddings and a Funeral.
And much more
The walk will start outside Blackfriars Station and finish near Barbican Station.