Walks with flair and style.
The City of London – a truly fascinating destination.
Let 
Six in The City

 take you there.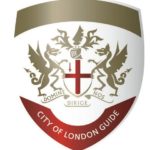 The City of London, or 'The Square Mile' as it's more popularly known, is truly where London began.
Within its old Roman walls lies a treasure chest of history, characters, buildings ancient and modern, winding alleyways, strange customs, and weird ceremonies. There's nowhere else quite like it.
Small but perfectly formed, you could easily walk from one side to the other in less than 30 minutes – but then, you would miss so much.
Let  SIX IN THE CITY walk with you. 
Just bring your curiosity and we'll bring our knowledge and enthusiasm, point out the best bits, tell the stories, and introduce you to the characters in a 2000 year old story that continues to unfold and is always enthralling.
Just when we thought everything was getting back to normal, we had a problem with our booking system. We are really sorry if you tried
Read More »