An Eggsellent Day in Guildhall Yard
The 2020 Inter Livery Pancake race – By Courtney and Pat
Lots of eggciting (it gets worse) fun at the pancake race on Shrove Tuesday, 25th February, in Guildhall Yard. The competitors (or tossers as they were affectionately called) came from assorted livery companies, who raced in their finery around the yard, frying pans in hand, with a required minimum of two flips of the pancake for each heat.
The event, now in its 16th year, is organised by the Poulters, who supply the eggs, and is timed by the clockmakers, the (very loud) starting gun is supplied by the gunmakers, and the lemons are supplied by the Fruiterers, with many other livery companies involved.
The inspiration for the fancy dress round is in theory linked to the runner's livery company, and when the 'dinosaur' was asked how this represented the Glovers, he not unreasonably replied that it is believed if the dinosaurs had worn gloves, they may have avoided extinction! The Plasterer was dressed as a pirate, and yes he explained this was based on a review of many quotes for plastering work!
Other countries may celebrate the start of Lent with flamboyant carnivals, but we have someone dressed as a plane racing against a basket of fruit, flipping marvellous, and all profits go to the Lord Mayor's charities.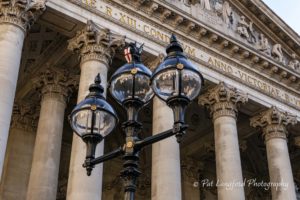 Finally, we like to request feedback on the An Eggsellent Day in Guildhall Yard page. Please have a look at other blogs such as London City Tours Blog to get regular updates on different tours of London city. Similarly, visit our Facebook and Instagram for London City Tour Photos. By the way, what types of tour blogs do you want to study? are you happy with An Eggsellent Day in Guildhall Yard? Please provide your comment to improve our services and blog section.