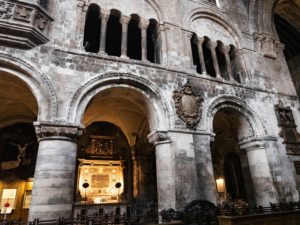 This Thursday 24th March an important event takes place in the City of London – the election of 100 members to the Court of Common Council. It's an election that normally takes place every four years but, like so many other activities over the last two years it has been delayed, due to Covid.
The Court of Common Council is the governing body of the City of London Corporation, the local authority for the City. This unique organisation is unlike any other UK council.  It's also a police authority and has responsibilities and ownerships beyond its boundaries. Its 25 ancient wards have very unequal numbers of voters so, in addition to city residents, many voters are City workers or representatives of other bodies located in the City.
This year Six in the City has a particular interest in the election, because Eamonn Mullally, one of our walking tour guides is standing in the ward of 'Farringdon Within', and so we thought we'd take the opportunity to ask him what he thinks is so special about the ward.
I consider it a special honour to live and work in the City, and love being here. Every day there is something new to see and learn about the City. Literally every street has a story to tell. Farringdon Within boasts a wealth of highlights including:
The Priory Church of St Bartholomew the Great situated in the north of the ward was founded in 1123 by a monk called Rahere. Legend has it that while travelling in Italy, Rahere fell ill and had a dream in which a winged beast transported him to a high place and instructed him build a hospital for the poor in the London suburb of Smithfield. On his return to London, he located the area in his dream, which was then a small burial ground belonging to King Henry I. The king was so impressed by Rahere' s story that he gave him the land. Today, very nearly 900 years later, we have not only the impressive priory church, but also the world famous St Bartholomew's Hospital.
In 1133 Henry granted a charter that would allow the Priory to hold a fair each year on St Bartholomew's Day, the 24thAugust. This is the origin of the famous (and ultimately notorious) Bartholomew Fair which flourished for over 700 years until 1855. Today the church is a magnificent and evocative example of Romanesque Architecture as well as a tranquil space away from the busy City Streets.
After a visit to St Bartholomew's, I suggest walking a few yards through its Medieval Gatehouse and into West Smithfield/Long Lane where stands the magnificent Smithfield Market destined to be the location of the New Museum of London. You'll also find a wonderful collection of Pubs and Cafés, perfect for a quick coffee, longer lunch or more. From here too you can see the new entrance to the Elizabeth Line which is due open very shortly. This is where the Thames Link and Elizabeth line underground lines cross, giving millions of people rapid access to the City of London from across the South East of England
A short walk south along Giltspur Street brings you to Old Bailey where you'll find the Central Criminal Court built on the site of the infamous Newgate Prison. Newgate's most famous inmate was the 18th century robber, thief and escapologist Jack Sheppard. Some said that no prison existed that could hold him – he even escaped twice from Newgate. However, his run of luck came to a sticky end in 1724 – on the gallows. The author Daniel Defoe helped Sheppard write his autobiography in prison and is believed to have been a co-conspirator in a plot to help him escape execution. A plan was hatched to retrieve his body from the gallows and revive him. Alas, it seems that no one shared the plan with the crowd because they pushed forward and swung on his legs in order that he might have a quick, less painful death!
Continue along Old Bailey and you'll find yourself on Ludgate Hill, one of London's great processional routes.  The Lord Mayor's procession travels along here each November as part of the Lord Mayor's Show. It's the route that Charles and Diana followed on the way to their magnificent, if ill-fated wedding at St Paul's. It's also the route of state funeral processions for great warriors such as Admiral Lord Nelson, Arthur Wellesley, Duke of Wellington, and Sir Winston Churchill.
If you are travelling from further afield and need somewhere to stay, there are several luxury hotels on Ludgate Hill and around the corner in New Bridge Street. The latest of which is 'Lost Property, St Paul's' from the Hilton group which is due to open very shortly.
A few steps beyond Ludgate Hill you will find Ludgate Broadway and Carter Lane boasting a rich assortment of coffee shops, pubs and restaurants and no shortage of walking tour stops, including the location of one of Shakespeare's many homes and Playhouses, as well as the location of the Blackfriars Monastery.
These are just some of the delights awaiting visitors, residents and City workers in Farringdon Within on a Six in the City walking tour.  And the great news is – there are 24 more wards to explore – with just as much to offer!
If elected Eamonn will be an eloquent voice at Guildhall speaking up in favour of Residents, Workers and Visitors to the City of London.