If you're near Leadenhall Market or close to the Cheesegrater, do pop into Beboz, an Italian Street Food Café established and run by the friendly Bebo, a former engineer and his wife, an architect. After 7 succesful years close to Holborn Viaduct, this delightful couple has brought their winning formula of freshly prepared and swiftly presented Italian street food to the City!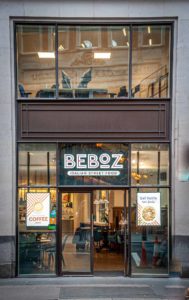 They are open 8 am until 4.00 pm. In the morning you can enjoy a swift snack of scrambled egg or crushed avocado, with a huge cup of strong Italian coffee.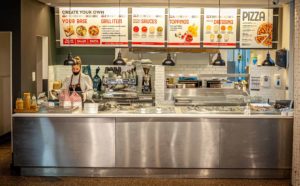 At lunchtime the office workers from those buildings in the eastern cluster, including the Gherkin, The Scalpel, Lloyds and more, are beating a path to the café to choose one of the delicious pizzas (take my advice and try the Parma ham, rocket and parmesan pizza – a steal at £8.50!) Or you can choose to build a bespoke burrito, stuffed with spaghetti and topped with a choice of so many delicious toppings and sauces that you will be in danger of missing your next meeting back at the office. Making the choice from the delicious menu is the hardest task in Beboz but I can also encourage you to try to crispy spicy chicken topping for your burrito!
Turn up to support this new venture at 6 Gracechurch Street, London, EC3V 0AT