If you are looking for a special place for a traditional lunch look no further than the charming Simpson's Tavern, established in 1757 and still going strong. Down a cobbled pathway in the heart of the City, (the actual address is 38 ½ Cornhill) and in its own tiny courtyard, Simpson's is said to be the oldest chop house in London.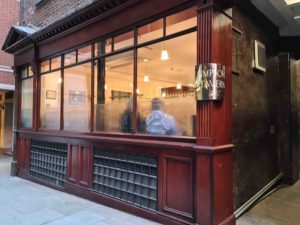 The layout in this Grade II listed building has not changed since the 18th century. Downstairs is a bar and separate restaurant area, and upstairs is more dining (where the ladies' loo is located – added as an afterthought when women were admitted in 1916). The seating is partly laid out as wooden panelled stalls and you may well have to share a table; historically this was a perfect setting for getting parties to finally agree a deal after an excellent shared lunch.  Note the roomy hat racks between each stall, from the days when bowler hats and silk top hats were a common sight here.  The tables are actually the underwriting tables from Lloyds, and each dining room has a Victorian tiled grill (now used for storage) and a marble topped table on which the slabs of meat were carved.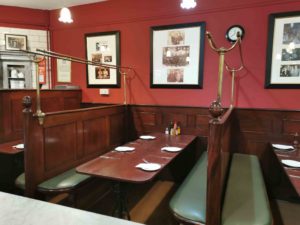 The menu is aimed at carnivores and contains meaty staples e.g. Barnsley chops and the charmingly chatty staff  really do ask if you'd like a sausage with every order. Stewed cheese is still on offer; this is a kind of welsh rarebit dish, and long served here and more vegetarian options will be available when the full menu returns.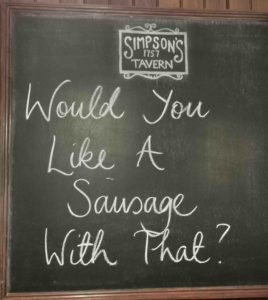 Simpson's is one of the few pubs that retains the old City opening hours – last orders are 3.30pm. Rather wonderfully it is also open for breakfast from 8.30 Tues to Friday. Well worth treking down Ball Court and sampling this anachronistic delight.