If you've read Six in The City's Barbican Highwalk blog, you may have noted mention of foodie pitstop – Barbie Green.
Described on its website as a 'relaxed Aussie café' this small but perfectly formed eatery can be found nestling in the gardens of London Wall Place where it sits directly underneath St Alphage Highwalk, opening out on to the ruins of a medieval priory on one side and the old Roman Wall on the other.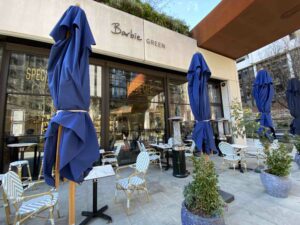 The atmosphere inside the restaurant is light and airy, due largely to the huge wall of windows that flood the café with daylight. In warmer weather you can dine outside.  Also, good to know – it's open 7 days a week, from 8am on weekdays and 9 am at weekends.
The café has its own Bondi Bakery producing fresh pastries every morning to go with your coffee. They also make several versions of the Aussie classic Lamington, described as a 'light and pillowy' sponge cake created here with a variety of flavours, jams and fillings, just perfect with afternoon tea.
Brunch is a speciality here too with a variety of savoury dishes to choose from. If you fancy the Aussie version of a 'full English' just ask for The Bondi featuring bacon, eggs, chilli and fennel sausage, mushrooms, avocado, chilli pesto and charcoal sourdough. There are plenty of vegetarian options too including the Healthy Start  with chilli and celeriac toast, avocado, eggs, broccoli, spinach and grilled tomatoes. Sweets include buttermilk blueberry pancakes and the award winning banana bread sandwich.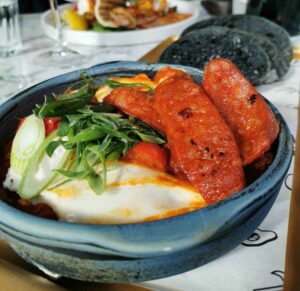 The café is popular with both city workers and visitors, and with its all day menu, insta-perfect setting and great service – Barbie Green is definitely worth a visit.