Need a break from the crowds after a trip to the Tower of London?
Some time to refresh and reflect after all that talk of executions, the wives of Henry VIII and the block? Look no further than Byward Kitchen and Bar situated next to the church of All Hallows by the Tower. It's the oldest church in the City of London, boasting a Roman pavement, as well as an all too rare sight in the city – an Anglo Saxon arch.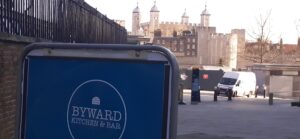 Bywards sits in a garden square away from the hustle and bustle of the UNESCO World Heritage site –  the Tower. Here you can choose from an extensive menu, focusing on British grub, which includes breakfast and light lunches (SITC advice: try their Sunday lunch!)  On top of that there are delicious cakes –  check out the marbled chocolate and vanilla sponge or the moist lemon drizzle cake covered in lashings of icing bursting with the flavor of lemon zest.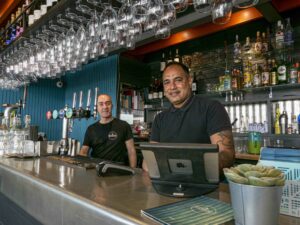 Should you dip into the full English breakfast with its juicy Cumberland sausages, black pudding, back bacon and plenty more… or go wild and try the waffles piled high with fresh fruit and cream –  or piled equally high with bacon and cheddar cheese? It's a dilemma!
Still hungry? Why not order the full afternoon tea, washed down with a glass of sparkling wine or two?  You'll be spoilt for choice.
Vegetarians,  there's no need to give the restaurant a wide berth. There's a veggie feast awaiting you of grilled halloumi, avocado, hash browns and slow roasted tomatoes.
The food is fresh, delicious, very reasonably priced and the staff are all delightful. Nothing is too much trouble and blankets are provided should you wish to sit outside in this green oasis in the city as the sun slowly sets over London.  Get yourself there quickly