Postman's Park is a little bit of paradise, tucked away between King Edward Street and Aldersgate Street, it's easy to pass by without even noticing it is there. That is a shame, because it is definitely worth a visit if you find yourself in the City – particularly in May when you may be lucky enough to see the Handkerchief Tree in bloom.
It is called Postman's Park because the large and elegant building to its south used to be the headquarters of the General Post Office (GPO) and it was the favourite place for Postmen to have lunch or perhaps a walk around the park when a difficult conversation was required.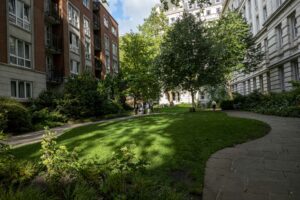 Whatever time of year I visit Postman's Park there is something to see. Early May sees the Handkerchief Tree (Davidia involucrate) in all its glory. It has inconspicuous flowers in May surrounded by a large, white bract, followed by egg shaped fruits about 1½" long,  green with russet spotting.  These white bracts give the tree its name becuase it looks like handkerchiefs are hanging from its branches.
This tree was discovered in 1868 by Père Armand David in western China. Approximately 30 years later Paul Farges, a French plant collector, sent 37 seeds of Davidia to the nursery of Maurice de Villmoran in France, but they failed to germinate and were recycled on a compost heap.
In early years of the 20 Century, Augustine Henry, a British doctor serving in the Imperial Chinese Maritime Customs Service was studying Chinese herbal medicine.  While looking for plants with medicinal use, he discovered a single specimen of the Handkerchief Tree.  His description inspired Harry Veitch of the Veitch Nursery (the biggest and most successful in Britain) to obtain a specimen, so he could be the first in Europe to offer a Handkerchief Tree for sale.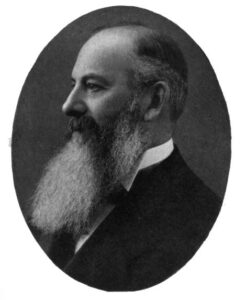 Veitch engaged Ernest Wilson, a 23-year-old gardener at Kew, to go to China to find the tree.  Veitch told Wilson to 'go for the big one and do not waste time and money looking for other plants'. Wilson clearly did not listen as he went on to discover over 1,000 plants in China during that expedition. At this time, the Boxer Rebellion against foreigners in China was underway, promoted by the 'Society of Patriotic and Harmonious Fists', and enroute, Wilson was imprisoned as a spy by the rebels.  He suffered from a recurring bouts of fever during the journey and was shipwrecked on the Red River because the captain of the ship was high on opium.
Wilson eventually reached Dr Henry in 1899.  He could only draw a rough map of the tree's location with as many landmarks as he could remember. Wilson set off and reached the village in 1900.  He negotiated with the locals to identify the tree, only to discover that there was nothing to be seen, the tree had been chopped down the previous year for timber to help build a house. He had travelled 13,000 miles –  for nothing.
The nearest other known tree was the original one seen by Père David in the city of Mupin, hundreds of miles to the west. Wilson tried to console himself by going on a short plant collecting expedition to hills further to the west.  One of his finds was Actinidia chinensis. Then, after a further three weeks, he suddenly saw a Handkerchief Tree in flower.  He waited for the tree to set seed.  While waiting he collected Acer griseum, Clematis armandii, Clematis montana, Magnolia delavayi amongst many, many other plants. He then packed up his collection and set off for Hong Kong.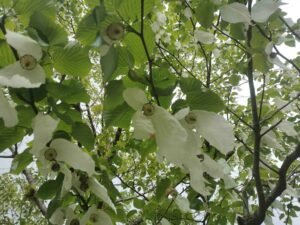 Twenty-four hours from Hong Kong he camped for the night.  In the morning there was a heavy mist.  Wilson sat and waited for the mist to rise, as it did so Wilson saw a Handkerchief Tree across the clearing, in full bloom.  He waited to collect seeds once again, and eventually arrived back in Britain in 1903 with 13,000 seeds.
In the meantime, the seeds sent to Villmoran in 1897 had started to grow on the compost heap.  What they didn't know then was that the seeds need a period of up to two years of alternating cold and warmth to stimulate germination.
France had the first flowering Handkerchief Tree in 1906.  The tree first flowered in Veitch's British Nursery in 1911.