London's Turbulent Son, the new play inspired by the Thomas Becket Pageant of 1519 and peformed on 17th and 18th June 2022 in Guildhall Yard was a bonkers, but brilliantly fun afternoon.  It was written and organised by Emmeline Winterbotham, with music composed by Vahan Solarian, and was part Disney's Aladdin, part medieval allegory, part Andrew Lloyd Webber musical and still managed to weave in accurate medieval touches and an origin story for Becket's father, Gilbert, which was prevalent in the 15th century and later retold by Charles Dickens.
Thomas Becket and London
Thomas Becket is closely associated with London having been born in Cheapside to Gilbert Becket, a French merchant and Matilda or Rohiese, who was probably also French. He was born on St Thomas's Day in 1120 and attended a City school, worked for a banker, Osbert Huitdenier, and the Archbishop of Canterbury before becoming Henry II's chancellor and right-hand man.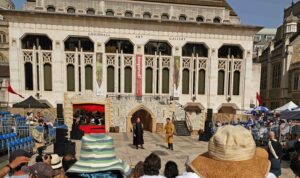 His subsequent ascent to Archbishop of Canterbury resulted in Becket resisting the authority of the king and excommunicating the Archbishop of York and Bishops of London and Salisbury. An infuriated Henry exclaimed "will no one rid me of this turbulent priest" and four knights took this literally and travelled to Canterbury to slay Becket in the Cathedral.  Numerous eyewitness accounts existed of his murder thereby guaranteeing the spread of the story of his demise and cementing his sainthood as soon as miracles started to be attributed to his shrine.
Gilbert Becket's Origin Story
These elements all appeared in London's Turbulent Son, along with the origin story that Gilbert Becket was a noble English knight who while on crusade in the Holy Land was captured by an evil Emir – the cliches acknowledged by the Emir in an aside to the audience – and helped to escape by Rohisa, the Emir's daughter.  She, of course, has fallen in love with Gilbert and sings of  "the mysterious stranger with cornflower eyes", and follows him to London speaking the only two words of English Becket has taught her: "London" and "Becket" resulting in a tongue in cheek song in which she is offered a succession of buckets, biscuits and jackets by the monolingual Londoners unable to understand foreigners (many Londoners at this time in fact would have spoken both French and English, with the educated also knowing Latin).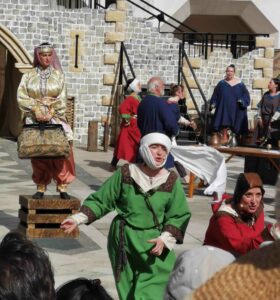 Since his return to London, the city of a thousand spires, Gilbert has become sheriff (which was true). They marry, and Thomas is born.
London's Turbulent Son
The rest of the play is a bromance between Henry II and Becket that goes sour, with both actors playing and singing their parts well.  Henry II in particular is commanding as the spoilt, wilful man-child who lashes out when his will is thwarted.  He sings of Becket's promotion that "when the country needs a plan, the king needs a man" and in the best tradition of west end musicals, the morally rigid Becket sings his way through any emotional turmoil.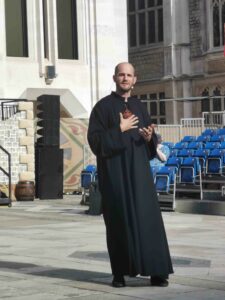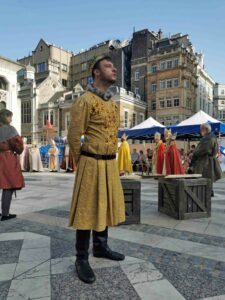 Also noteworthy is Hubert, Gilbert's "lowly, but mouthy servant" who dreams of being a carman, and acts as the chorus.  Medieval touches are added, with personifications of Time, Fortune and Death commenting on the action, and plague doctors hold up signs with any necessary exposition.  The death of Becket is a child-friendly slo-mo dance with Death, while another song mentions the pilgrim badges, holy water, and relics industry that sprang up after Becket's death as people sought their "tiny drop of miracle." The play is rounded off with some giant puppets representing the spirits of London and Becket, and with a rousing song and dance.
I saw the Becket Pageant on the hottest day of the year which may have accounted for the empty seats, but the cast executed this funny, zippy run through medieval life and the cult of Becket with gusto and deserved their standing ovation. Hopefully they will get full houses for the remaining performances.  Bravo.
See the Becket Pageant for London site for more info about the pageant.
*Updated on 21st June 2022 to include the names of the writer and organiser of the event Emmeline Winterbotham and the composer Vahan Solarian. Apologies for the omission.