During these glorious months of long summer evenings, our attention has wandered to a key question, namely, where to go for an al fresco drink in the Square Mile? This called for some serious research, but we managed to narrow it down to six (of course!) bars and pubs with outside space, with some honourable mentions along the way.
Many of the fine City pubs let you just spill out onto the pavements and there is usually quite a crowd around The Sugar Loaf and the Watling (you can tell that one is well used by the location of the telescopic urinal that is flat to the ground in the daytime, near the Cordwainer statue!).
However, sometimes you don't want to keep gently shuffling to let pedestrians pass by. Some pubs have their own outside seating including the art nouveau tiled Blackfriar and the Walrus and Carpenter (though fairly near busy roads). The Railway near Liverpool Street has generous outdoor seating (though with a rather limited low alcohol selection when recently visited). The sports bar Pavilion End has its own outdoor space, accessible through the pub or by the tiny passageway off Salters Court, all worth a visit, but the first of our Top Six is
The Old Tea Warehouse tucked off Creechurch Lane, off Leadenhall Street. Down a short stone alley, it has its own private patio. If you look up, you can see the 19th century tea warehouses complete with teal blue painted wood and iron work. They make their own pizzas and have a darts basement! It's a bit quieter than some of the pubs mentioned above but still busy and convivial.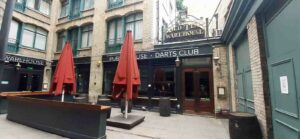 Places where you don't have to book are popular, and that is where The Old Change on the pedestrianised Old Change Court comes in. Named after a road that was completely bombed off the map by the wartime targeting of St Paul's, this is more of a bar than a pub. It benefits from the fact that it is not on a through road and therefore has quite a generous outdoor space all to itself.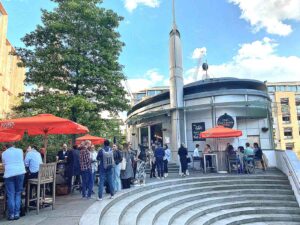 Something a bit different and only opened in 2015 is the central seating area in the middle of Broadgate Circle, which gives you the choice of several bars including Grind and The Botanist. In such a built-up environment it becomes something of a sun trap, though there is some shade.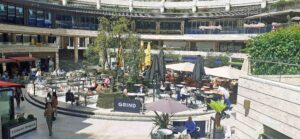 Rooftop bars always seem to have a touch of glamour. Madisonsits on top of the shopping mall of One New Change, immediately opposite St Paul's, and its lemon themed décor works especially well on a sun-soaked evening. Fantastic views can also be had from the public area at the top of One New Change (same lift) where there is a pop-up bar; you don't have to book as it doesn't have its own seating; you take your drinks to the public area.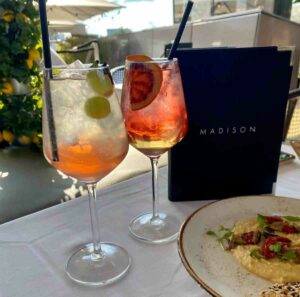 Sabineon Godliman Street is another pretty rooftop bar and a great place for a cocktail (around £16) offering fabulous close-up views of the top half of St Paul's, such as were never really intended when Christopher Wren designed his masterpiece. Staff were very friendly and attentive (I was there with my 25-year-old daughter – who knew free shots were given out so freely?!).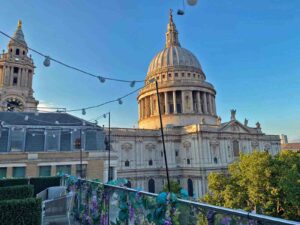 Last but by no means least is a real charmer. The Wardrobe, 53-55 Carter Lane spills into an intimate courtyard with 18th century houses, filled with fairy lights and shady trees, perfect for a warm evening. The name derives from the King's personal and court items that were housed here until the Great Fire of 1666. They also offer bottomless brunch on Saturdays by advance booking only.
This is just a personal selection from the many alfresco watering holes on offer, the City boasts something for everyone to help us enjoy the all too brief summer!