If you need a sugar hit one day, then find Aux Merveilleux de Fred, a cafe in Leadenhall Market with plenty of outdoor seating and a small selection of beautiful pâtisserie and baked goods.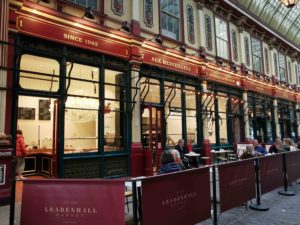 It specialises in merveilleux, a dessert originally from Flanders, which a French confectioner, Frédéric Vaucamps, has perfected.  They date back to the time of Marie Antoinette and invoke the decadent and fashionable group of aristocratic male Incroyables and female Merveilleuses. These aristocrats survived the Reign of Terror and then partied like their life depended on it, while adopting ever increasingly effete clothes and mannerisms.
The dessert itself sounds deceptively simple being a meringue with a whipped cream centre and coated with a variety of flavours from the classic dark chocolate, to speculos biscuits, praline, coffee, cherry and caramel.  But the names given to the merveilleux (Magnifique for the praline version, Incroyable for the speculos version etc) – as well as being historically inspired – are entirely appropriate as the Magnifique merveilleux I had was as light as air and dissolved in my mouth in a sugary cloud. If fairies could bake, this is what it would taste like.  I could easily have eaten another three.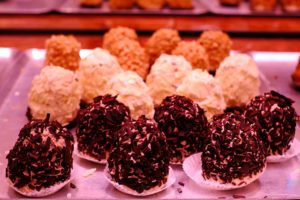 The merveilleux can be purchased in a variety of sizes from the mini version to a full sized cake and the café also offers other Belgian specialities in the form of waffles and cramique (brioche).  The coffee selection is the usual Italian and French offerings and I can vouch for the cafe au lait being smooth and delicious.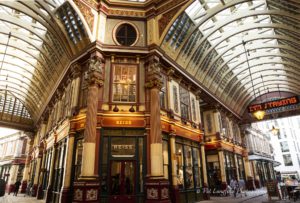 Leadenhall Market itself is a beautiful example of Victorian ironwork designed by Sir Horace Jones, and is now the major retail centre in the City of London, so you can combine your merveilleux with a spot of shopping as well.  Enjoy.
We visit Leadenhall Market on our Highlights of the City tour.