Yes, it's a cold, damp and gloomy January out there, so here are a few ideas for anyone who wants to shake off the winter blues, explore the City of London and keep warm. Under cover is the way to go, preferably with a bit of central heating thrown in (well, it is January), and this is our list of indoor places to visit in the City of London.
Guildhall Art Gallery
The Guildhall Art Gallery has to be top of the list of warm dry and colourful indoor places to while away an hour or so on a grey afternoon. Several of us at Six in the City do the occasional stint here as volunteer guides, and for visitors it's a real find, with many admitting they simply stumbled across it by chance on foot or online. The gallery has been in existence since 1885 and works held the collection date from the 17th century to the present with a strong Victorian element and plentiful images of the City and its ceremonies through the centuries. An added bonus sits 20 feet below pavement level – the remains of the 2000 year old Roman Amphitheatre.
Opening times: 10.30 – 4.00 Monday to Sunday with free guided tours on Tuesdays, Thursdays, Fridays, Saturdays and Sundays at 12.15 and 1.15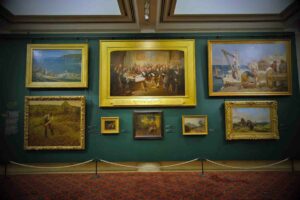 St Bartholomew's Hospital Museum
Venture into the Smithfield area of the city and you'll come to St Bartholomew's Hospital –  the oldest working hospital in England  – which is celebrating  its 900th anniversary this year.  Founded in 1123 as a monastic hospital, hospice and orphanage, it was threatened with closure during the Reformation, was re-founded by Henry VIII in 1546 and today it thrives as a specialist centre for cardiac and cancer care. The museum in the historic North Wing of the complex is well worth visiting to learn more about the hospital's long and fascinating history with its display of original and facsimile documents, objects and works of art. Don't forget to slip through the door at the rear of the museum where you'll find yourself at the foot of the grand staircase with its vast and spectacular paintings by William Hogarth.
Open from Wed – Fri 10.00 4pm – (although they do recommend you check their Twitter account for updates).
The Charterhouse
Why not combine a visit to St Bartholomew's Museum with a tour of The Charterhouse, just a 5 minute walk away. Established as a monastery beside a plague pit in the 14th century, its Brothers suffered a dreadful fate when they refused to accept Henry VIII as Head of the Church of England during the Reformation. The monastery was transformed into a Tudor mansion with a succession of owners until in 1611 wealthy businessman Thomas Sutton purchased the buildings re-establishing the complex as a school and an Alms house for 'decrepit or old captaynes… maimed or disabled soldiers, merchants fallen on hard times'. Today it is still home to a community of 'Brothers' as they are known. A variety of guided tours bring the chequered story of The Charterhouse to life, some delivered by the Brothers themselves. Click here to book tours online.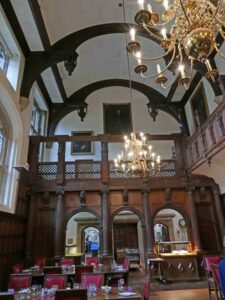 Bank of England Museum
Drop in here to here to learn about money, the economy and the History of The Bank of England through fascinating historical objects and works of art. The museum's collection contains 40,000 items and spans over 1,500 years of history. It includes archaeology, banknotes, coins, artworks, sculpture, decorative art and social history. This is a good time to catch the museum's exhibition exploring the history of transatlantic slavery through its connections with the Bank of England. Slavery & the Bank runs until 28 April.
The Bank of England Museum is open Monday to Friday, 10am – 5pm and until 8pm (last entry 7.30pm) every third Thursday of the month.  Coming up on Thursday 19 January from 5pm  – 8pm is a Meet The Museum evening which  includes  free introductory talks. Just drop in – no need to book ahead.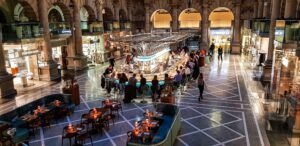 Tea at the Royal Exchange
After you've mugged up on the Bank of England why not pop over the road and up the elegant steps of the Royal Exchange for a posh cream tea at Fortnum's Bar and Restaurant.  As you tuck into your scone or Cotswold Legbar Egg Mayonnaise with Cress sandwich, spare a thought for the dealers and traders who thronged this very site back in chilly January 1571 when the very first roofless wooden Royal Exchange was opened by Queen Elizabeth I as a 'comely bourse for merchants to assemble upon.'
Open Monday – Friday 7.30am – 11pm
See you on a walk in February!