The year 2023 marks three hundred years since the death of Sir Christopher Wren (1632-1723) mathematician, astronomer, physicist, anatomist and one of the United Kingdom's greatest architects. The City of London is preparing to remember this great architect, his achievements and long-lasting legacy as he worked to rebuild the City of London following the Great Fire in 1666.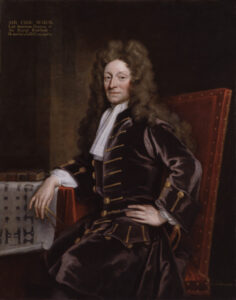 Six in the City have developed a number of walks with a Wren focus, and we are hoping that many of these will be of interest to you. The walks will introduce you to many of the churches of Sir Christopher Wren and his trusted team, including the Strong brothers and of course Grinling Gibbons and we will also draw your attention to some of his secular buildings that may be less familiar to you. So, keep an eye on the website as the walks will be added during the celebration of this great polymath and a practical intellectual.
Here are the details of our current walks:
An Argument of Architects – 21 April 11am
Join Caroline Powell for a walk which takes in many of the City's most iconic buildings, talks about the contribution of many architects over the centuries and gives some historical and cultural context to the structures we can see today.   These include the glorious St Paul's Cathedral in the English Baroque style championed by Christopher Wren; Leadenhall Market by the master of Victorian 'bling', Sir Horace Jones and the 'talking point'  buildings of more contemporary  architects such as Richard Rogers, Norman Foster and and Karen Cook. Other highlights include John Croxtone's 15th Century Guildhall building, fronted by its 18C porch by George Dance the Younger, next to the 20th century Guildhall Art Gallery and West Wing of Richard Gilbert Scott. The walk also includes some lesser-known places,  an amazing scale model of the City of London  and a spectacular view of the 'Eastern Cluster' from a peaceful and relatively unknown Roof Garden.  This is a tour for those who are interested in both the history of the City of London and the people behind the myriad of designs in its streets.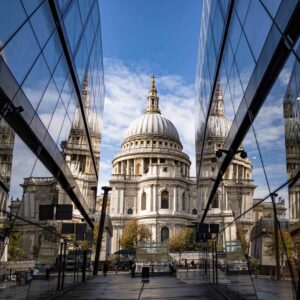 In the Footsteps of Sir Christopher Wren – 24 May 11am
This walk, led by Caroline Powell, covers both the architectural impact of St Paul's and several of Wren's churches, including St Lawrence Jewry, St Mary Aldermanbury, St Mary Le Bow, St Vedast, and St Stephen Walbrook. We also look at the contribution of some members of Wren's workforce, including Thomas and Edward Strong and Grinling Gibbons. We will be able to explore Wren's vision for the City, with its wide boulevards and generous squares, and we can discover why the plan was not achieved and why Wren was required to rebuild the city on its original medieval footprint.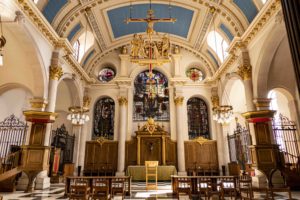 Online Tour – Sir Christopher Wren, his life, work and legacy – 27 May. 5pm, 7pm and 9pm
One of the most remarkable aspects of the City of London is that we can still visit so many churches built by gifted architect Sir Christopher Wren. Apart from his delightful contributions in the city, many of his works still stand around the country. Recognised today mainly for his architectural skills, he was also a cultivated and informed astronomer, mathematician, anatomist, and physicist. Quite the man of science with the flair for designing aesthetically pleasing buildings many of which are still in use today. This walk is being presented by Pat Langford. A zoom link will be sent to all ticket holders the day before the online tour.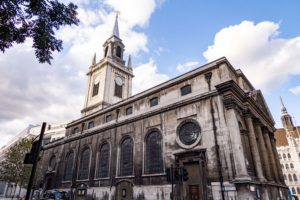 Murder, Mayhem and Memorials –  a tour of St Paul's Churchyard   – 24 June 11am
Take a walk with Ildiko Bita around St Paul's Churchyard, and learn about how St Paul's Cathedral was built by Wren and saved in the Blitz. You will hear stories of an execution, a murder and public shaming of a royal mistress that took place in the Churchyard and hear about a social climbing barmaid who defied society and tragic Queen Anne, the subject of the oscar winning  film The Favourite.  We will explore the modern sculpture and beautiful gardens near St Paul's Churchyard and you will see works by Elizabeth Frink, Emily Young, Thomas Heatherwick, the creator of the Olympic flame, and Gavin Turk, a Young British Artist. You will also be guaranteed to have an Insta worthy photo of the iconic dome as we show you all the best views of St Paul's and the best photo spots.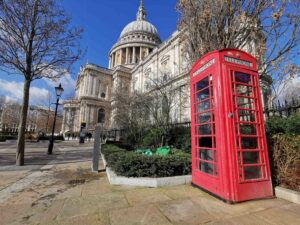 If you seek his Monument, look around – 15 July 11 am
"Si monumentum requiris circumspice" (If you seek his monument, look around) is the epitaph on the tomb of Sir Christopher Wren in the crypt of St. Paul's Cathedral. Join Eamonn Mullally on this guided tour to see Wren's monuments in the streets of the City of London, around St Pauls Cathedral. More than that, we meet the people who not only knew him, they actively collaborated in creation of his vision and wonderful legacy. This includes the wise Edward Woodroffe, a young Nicholas Hawksmoor, a pragmatic Edward Strong and a bevy of Deans such as William Sancroft, William Sherlock, and Henry Godolphin to mention just a few.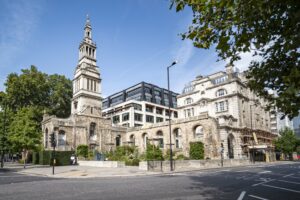 Vikings, Whittington and Wine – a tour of 3 Wren Churches  – 10 August 11am
This tongue-twisting tour with Ildiko Bita explores St Magnus the Martyr, St Michael Paternoster Royal and St James Garlickhythe, three Wren churches that used to lie near the banks of the River Thames. We start at the Monument and hear about the Great Fire and how it started in nearby Pudding Lane and then go to St Magnus the Martyr, a church associated with Vikings and the pilgrimage to Thomas Becket's shrine in Canterbury. The interior is high church with icons and incense, a statue of a Viking and a delightful model of old London Bridge. Next we will walk along the riverbank to Sir Michael Paternoster Royal in Vintry ward, where the wine merchants used to reside, and where we will hear about the real Dick Whittington. 2023 is the 600th anniversary of Whittington's death and St Michael Paternoster Royal was where he was buried.  The church has some stunning stained glass windows, including one commemorating Whittington and his loyal cat.  Lastly, we visit Sir James Garlickhythe, via some cobbled alleyways and some fine Georgian houses built after the Great Fire. St James Garlickhythe is known as Wren's Lantern due to its high ceilings and we will hear about its association with the Camino to Santiago de Compostela and hear about a strange custom involving counting swans and Jimmy Garlick, whose mummified remains used to reside in the church.