The Fox and Anchor is a cosy wood-panelled pub, serving great food (including breakfast from 7am – more of that later) and is tucked between the splendour of Charterhouse Square and the history-packed district of Smithfield market. This area used to be full of pubs licensed to open at the crack of dawn, offering refreshment to those who had worked all night at the meat market.  Sadly, the Fox and Anchor would appear to be the last one remaining.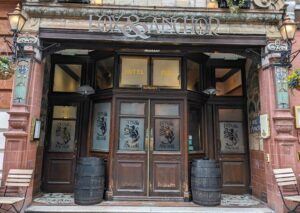 Maybe they saved the best till last, but this Grade II, Victorian one certainly fits the bill. For breakfast you can choose between butties, full English, yoghurt and granola, and lots in between. Alcohol optional!
An especially appealing feature is the three booths at the rear of the pub, little private mini rooms that seat around 6 people. These were probably common at one time but are now a rare sight in the City.  This is a popular pub in the evening as well, and it's good to arrive early or book a table beforehand with the helpful and friendly staff.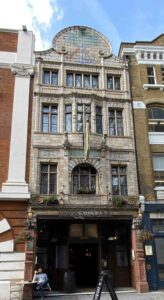 The building itself boasts a fabulous Art Nouveau tiled exterior, created by English artist William J Neatby – best known for designing the interior of Harrods food hall. They also have six plush bedrooms upstairs.
Smithfield meat market will be moving on within 5 years or so. Whether the Fox and Anchor will continue to serve breakfasts after then, only time will tell. In the meantime, a visit is certainly recommended.
If you want to sample a Fox and Anchor breakfast, then why not combine it with a guided tour of Smithfield Market which are available to book here.