The blessing of the River Thames
Every great City has a great river running through it. We can probably all think of lots of examples and maybe even recall times when we have been lucky enough to cross famous bridges and look at the impressive architecture on one side or other. London of course, has the mighty Thames, on a bank of which, the Romans established their little trading place, Londinium. The rest, as they say, is history. And what a history it is. For centuries the only crossing was in more or less the place that London Bridge is today. Modern day transport innovations  have seen the construction of no less 35 bridges from Hampton Court in the West to the Queen Elizabeth Bridge at Dartford. Each bridge has its own story to tell.
Great Rivers tend to get worshipped and the Thames is no exception. Over centuries people have thrown offerings into the River, perhaps calling upon Old Father Thames to intercede on some matter on their behalf. Alas, great Rivers can also be very deadly and in July and August 1858, Londoners' noses were assaulted by "The Great Stink", the direct result of years of shocking neglect creating what Charles Dickens described as "a deadly sewer … in the place of a fine, fresh river". Disease flourished. Finally, Joseph Bazalgette was commissioned to design and implement the huge and complex sewer system which for many decades rendered the Thames clean enough for fish to reappear. Good old Joe; every bit as important as Old Father Thames, we reckon.
Anyway, let's stop drifting off downstream and get to the point. A new Christian tradition has sprung up, in the 21st century, of blessing the great River Thames. It happens on London Bridge on the first Sunday after 6thJanuary and comprises a group from Southwark Cathedral heading up from the south side and a group from the Church of St Magnus the Martyr, coming down from the north side and meeting in the centre of the bridge. A short service is held which blesses the River and gives thanks for those who work on it, such as the River Police and the RNLI Lifeboat men and women. A fairly sizable wooden cross is then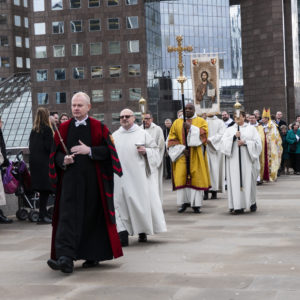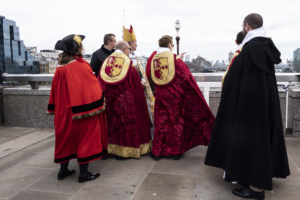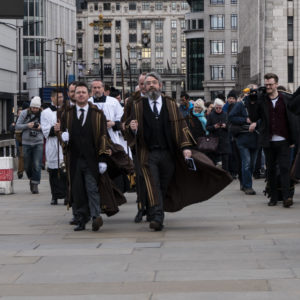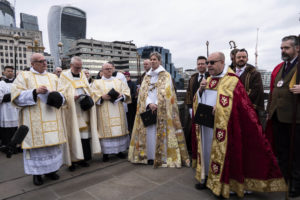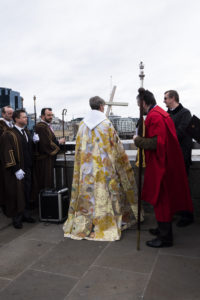 thrown into the water. Hopefully no-one is going underneath at the time. It's quite a spectacle and possibly a little puzzling to tourists but hey, we are blessed with a great River and it, in turn, deserves to be blessed.