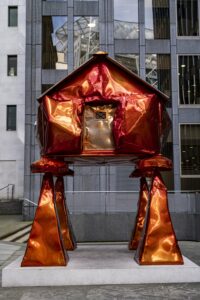 Every summer, the City of London, in partnership with local businesses, unveils a brand-new selection of artworks by internationally-acclaimed and emerging artists. Sculpture in the City is set amongst the iconic architecture of the City's insurance district, the sculptures animate public spaces and engage visitors and passers-by alike.
Now celebrating its 12th edition,  Sculpture in the City has once again turned the eastern part of the City into an urban sculpture park.  There are 18 different pieces from artists including Larry Bell, Isamu Noguchi and Phyllida Barlow to name just a few. Rather than just wander around and possibly miss some of these very unique conversation-starters, join Courtney Plank, who was part of the team that presented the trail in this year's Sculpture Week. It's an exhibition that is both interesting, engaging and fun!
Meet in the courtyard of St Helen's Bishopsgate, EC3A 6AT.