---
Highlights of the City of London
H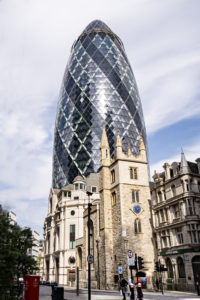 ighlights of the City of London
Join Caroline Powell or Kelly Coburn for a walk around the City of London learning more about the Roman settlement in 43 AD and the creation of the Roman city of Londinium and the history of the city over the last 2000 years.
Delve into the importance of the River Thames in the city's history; marvel at the gleaming stainless steel and glass buildings of the familiar skyscrapers and learn more about their nicknames; admire the colourful 19th century Leadenhall Market and the Royal Exchange with its grasshopper weather vane.
We will pass historic buildings such as Guildhall, St Lawrence Jewry, Bank of England and the Mansion House, escaping for a walk down the small alleyways to learn more about what went on inside the 17th Century coffee houses.
We end the walk overlooking St Paul's, the Millennium Bridge and the river.
Meet outside Trinity House in Trinity Square London EC3N 4DH. Closest tube is Tower Hill on both the Circle and District line. Trinity House is a two minute stroll across the gardens of Tower Hill close to the Merchant Seamen's Memorial