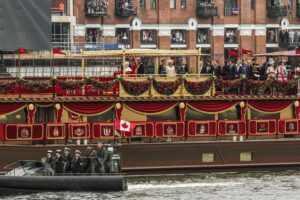 2022 sees Queen Elizabeth II celebrate her Platinum Jubilee, something no other British Monarch has ever achieved. It's been a reign in which Her Majesty has seen the most extraordinary changes in British Society and the World more widely. Her life has been well-documented throughout the decades as new media has evolved and June 2022 will see televised celebrations and public expressions of appreciation for her tireless service.  To mark the Platinum Jubilee, Six in the City have developed this feature and history-rich walk around The City of London which has always had a very important relationship with the Monarchy. The walk introducing visitors to the sites where  some of the most engaging history is to be told . Much of the walk goes along the beautiful Thames Path, from which so much of London's history can be observed. Stories that we tell along the way relate to many of the Queens of England including Matilda, Eleanor of Provence, Anne Boleyn, Mary I, Lady Jane Grey (the 9-day Queen) Elizabeth I, Victoria and of course our very own Queen, Elizabeth II. She may have been able to reign "Happy and Glorious" and have more than one Jubilee but not all of them were so lucky.
Join us for this special Jubilee walk as we discover more about Anne Boleyn's processional route on the river, as she made her way to her coronation, and of her trip a few years later as she made her way to the Tower as a prisoner.  Listen closely as we recount the tale of Lady Jane Grey, who was Queen for just nine days. Discover what Boudicca, Queen of the Iceni, did to London in AD 60 and what happened to Queen Isabella at the end of her life as she was laid to rest in Christchurch Greyfriars. We start our walk close to the Tower of London at the entrance to Tower Hill Tube and end the walk at St Paul's close to the Millennium Bridge.
If you like this walk, why not try our Highlights of the City walk.
Read here if you want to know more about the Platinum Jubilee.