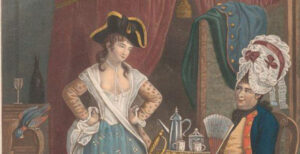 Queer in the City
Walk begins:  Farringdon Station EC1M 6BY
Walk ends: St Paul's Cathedral  EC4M 8AD
Duration: 2 hours
Accessibility: Not suitable for people with decreased mobility
LGBTQ+ people have often been hidden from history. This walk will take you through 2000 years of London's LGBTQ+ history and will explore the lives of queer Londoners who have often been erased, marginalised or portrayed negatively in our City's history. On our meanderings through the City we will discover some of Queer London's spaces and their place in London's story.
Where are some of the finest examples of London's Roman Walls and what was the Roman approach to same sex desire?
Where did Shakespeare live in Elizabethan London and what is the bard's place in LGBTQI+ history?
Which Stuart Queen was associated with same sex desire and where is her statue?
Who was the famous London female cross-dresser and what happened to her?
Where was Mother Clap's Molly House and why was she pilloried?
Who were the Mollies of 18th Century London? And what were their strange rituals?
Where were the cruising grounds of 18th London?
See the location of Oscar Wilde's Trial for sodomy.
Join Patrick Molloy to hear about Queer London's journey through time!