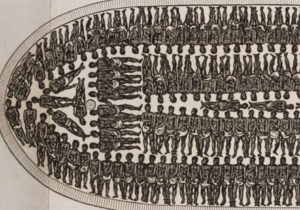 'It is not lawful to put it into the Treasury, because it is the price of blood'. These are the words of abolitionist John Newton as he preached from St Mary Woolnoth in the City in 1788. But the abolitionist's tale is only one side of the coin in the City's involvement in the horrors of the slave trade.
We will explore sites and institutions with direct links to this history and hear why the apologies have recently been made, whilst wandering within the  story packed streets and alleyways of the Square Mile.
We are happy to see young people on this walk, but it may not be suitable for children under the age of 12.
We donate 10 % of the ticket price to charities that aim to tackle racism in the UK.
Slavery and the City –  Reading list
There are so many books and resources on slavery, and this is a selection to get you started:
David Hochschild – Bury the Chains
James Walvin – A Short History of Slavery
Understanding Slavery Initiative
The Interesting Narrative of the Life of Olaudah Equiano or Gustavus Vassa, the African 
The History of Mary Prince, a West Indian Slave 
Legacies of British Slave Ownership
Or watch or listen to these programmes – we particularly recommend David Olusoga's series on BBC iPlayer
Britain's Forgotten Slave Owners
Black and British: A Forgotten History 
Black Music in Europe: A Hidden History