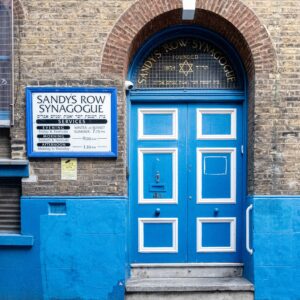 We leave behind the gleaming glass and steel towers of the City of London and introduce you to architecture that tells a very different set of human stories.  The always fascinating, and sometimes turbulent, history of Spitalfields and Brick Lane in London's notorious East End is vibrant with the multi-layered tales of the many different groups of people who have come, over the centuries, seeking safety, work, and community. They all leave their mark in buildings that range from the vast railway shed of Liverpool Street Station, constructed by Irish 'navvies' to the beautiful artisan homes of the French Huguenot weavers, the synagogue still used by Jewish people today and the Mosque that serves the latest wave of immigrants from Bangladesh, whose restaurants are a huge favourite of London dwellers from far and wide. Over time, the different peoples moved on but their buildings remained and were 'repurposed' by successive waves of migrants or, most recently, snapped up by developers.
The walk starts at the evocative memorial to the Jewish children who travelled to freedom and safety on the 'Kindertransport' in 1938 and then makes its way around streets that tell the histories of other groups who came to avoid persecution, famine and poverty including Huguenots who brought silk weaving, the Irish linen weavers and builders, and the Jewish communities escaping persecution in Europe in the 19th century. The arrival of these groups sometimes introduced tensions which led to protests and riots, both amongst and between the groups. Those tensions also created unique and powerful street art which still flourishes today. If you want to see an original Banksy, this is your chance. Today the area is made unique and thriving through the huge contribution of the Bangladeshi community who made it their home in the 1970s but what does the proposed redevelopment of the vast Truman Brewery site mean for them? Will gentrification mean yet another wave of new residents come to be the cultural driving force of this fascinating, history-rich area?
The walk lasts two hours and starts at the Kindertransport memorial at the side entrance  to Liverpool Street Station 14 Liverpool St, London EC2M 7NH. Please note that the pavements are narrow, often crowded and many of the streets are cobbled so it might be difficult for people with mobility issues.