What can queer shoes tell us about Queer London History?   
When I was researching my walk on Queer London, 2000 years of LGBTQ+ History in the City, I came across some very, very pointy shoes at the Museum of London. They were discovered on several archaeological digs in London over the past 50 years. These shoes were known as `poulaines' or Polish shoes. They come from London's medieval period between 1200 to 1500.  The wearers of poulaines may have strolled underneath St Bartholomew's Gatehouse pictured below.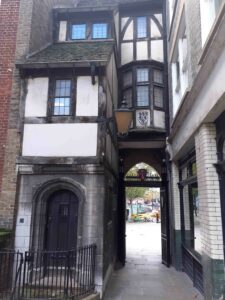 A glimpse of Queer London History?
Andrew Millar, a Visitor Host at the Museum of London, tells us about these fascinating shoes and their queer connection. The term `poulaine' evolved from the French term `from Poland'. They were also called Cracows as they are believed to originate from Krakow in Poland. Some of the shoes in the collection at the Museum of London have points as long as 10cm. In 1394 a monk in Evesham, Worcestershire, complained that some people wore pointed shoes half a yard long (45cms! Yes 45 cms!) and that it was `necessary for them to be tied to the shin with chains of silver before they could walk with them'. So, what was queer about them?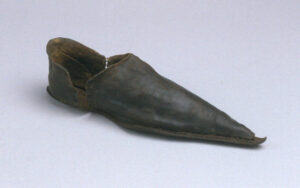 The Queer Connection
Medieval people associated extravagant fashions, including pointed shoes with alternative or deviant sexuality. For example, Orderic Vitalis, a 12th century English Benedictine monk wrote that those who wore poulaines `gave themselves up to sodomitic filth'. He also suggested that the young men who wore them had `long luxurious locks like women' and `over-tight shirts and tunics'.
Poulaines became the height of fashion from the 14th to the 16th Century. The church began to attack pointed shoes as indicators of deviant sexualities. Church authorities saw the poulaine as encouraging sodomy – a catch all term for and for any kind of sexual activity outside of what was considered acceptable at the time.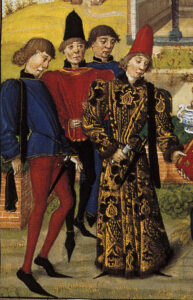 Queer Shoes – Satan's Claws with Bells on!
But the denunciations didn't stop young men from wearing the phallic shaped poulaines! And as we can see from the Museum of London, poulaines were very popular in London. Young men used to stuff the shoes with wool or moss to make them harder. They would often stand on street corners and wiggle them at passersby. It was said that if someone wore poulaines with bells sewn to the ends of them, it indicated that the wearer was sexually available. Are the large number of poulaines in London evidence of  LGBTQ+ London history?
In the eyes of the Church, the length of poulaines prevented people from being able to kneel properly and made praying difficult. Priests called them Satan's Claws! Pope Urban V banned them in 1362 but it didn't really stop people from wearing them. People loved their poulaines, especially young men out and about in town.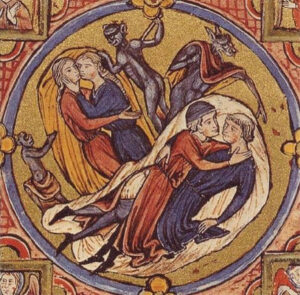 A wander around Queer London
Most of medieval London was within the ancient City walls, what we now know as the City of London or the Square Mile. As we wander around the medieval street plan of the modern City of London today, it is worth thinking if the poulaines and their wearers are a tentative glimpse of Queer London History. How many poulaine wearers walked down medieval Bow Lane or Lovat Lane?  As we pass under the arch of medieval St Bartholomew's Gatehouse, we can reflect on Londoners past, who expressed themselves with forbidden shoes, to have fun and frolics in a time of fear.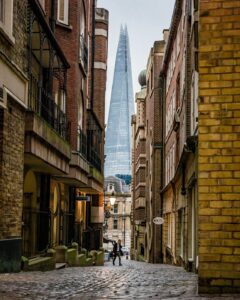 If you would like to walk in the footsteps of Queer Londoners and find out about 2000 years of LGBTQ+ London History, you can join us on our Queer London, 2000 years of LGBTQ+ History in the City.  On the walk you will follow in the footsteps of Roman, Medieval, Stuart, Georgian and 20th century Queer Londoners.
To read more about poulaines, check out the Museum of London and Atlas Obscura blogs.