A giant bouquet to Her Majesty is how the extravaganza of the Superbloom has been described, whereby 20 million flower seeds have been planted in the moat of the Tower of London to celebrate the Platinum jubilee, an anniversary none of us are likely to experience again in our lifetimes.  When all in bloom, this will be a spectacular sight, and Six in the City will be bringing you insider updates, as some of us have volunteered as Superbloom guides.  'When' alas is the key word, as there has in fact been a bit of a delay in the full delight, more of which below.
First of all, what is a Superbloom? It is not a made-up word, but a natural phenomenon – when dormant wildflower seeds burst into bloom at roughly the same time. This was timed to begin in June, but due to the unpredictability of our British weather (what could possibly go wrong?) things have not entirely gone to plan.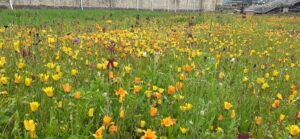 The moat – which in days gone by was filled with Thames water until it was drained after it had become too filthy – is a huge area, and the Superbloom will become a giant pollinator for London. It has been designed by Professor Nigel Dunnett who also oversaw the planting at the Olympic park (and parts of the Barbican, which you can see on our walk there). The flowers will not be ripped out after the celebrations and should provide colour for several more years. The legacy is also being shared by the distribution of the seed mixes to schools up and down the land, for their own planting. There are two entrances to the moat for Superbloom, one conventional and one via a multi-lane slide!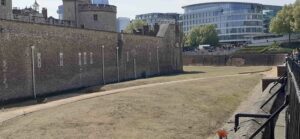 Alas the display is a few weeks behind schedule. There are some glorious parts of the display, but also some just solid green patches, but with plenty of buds. What this has meant is that visitors from the end of May till the 15 June were entitled to rebook and visit at a later date, or simply get a refund.
All those we met who did venture out in early June were delightful, full of comments like 'well, that's nature for you', and 'it still looks lovely', and were very interested in the planting. In addition, many, even those of more advanced years, had taken the option of entering the moat by the slide!
The flowers in bloom at the moment are a mixture of cornflowers (ranging from blue to crimson to the palest pink), Californian poppies, marigolds, gyp, red spinach and toadflax in an amazing palette of colours. As ever, it is the combination of flowers that is quite dazzling.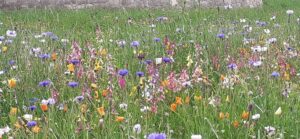 Apparently, the nights in April were unusually cold, (on average more so than February this year we were told) and night-time germination is particularly important. In addition, the wind may have swept some seeds round the corner, as one part of the moat is more exposed than the rest.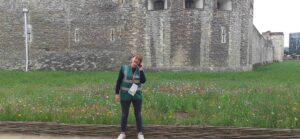 However, as you can see from the photos, some areas are already definitely touched by magic, and bees and other pollinators have begun to enjoy it already! By early July this should be even more amazing. The plan is for the carpet of flowers to gradually evolve over the months, hopefully until September,  with different colours and flowers each month.
It will also be possible to view it from above the moat, and that will be free, although tickets must still be booked to avoid overcrowding.
Book tickets on the Historic Royal Palaces website or come on a Gardens of Delight walk with Courtney