A recent encounter at the College of Arms made me think about how in the past there seems to have been no shortage of unusual sounding jobs connected to the City of London, especially relating to its Royal Heritage. Some of the titles were reasonably self-explanatory, such as 'Keeper of the Lions in the Tower', the 'Necessary Woman to the Corridor and Entrance Hall' and the 'Strewer of Herbs'. Such roles have long since faded away (although we'd actually vote to see Lions roaming around the moat of the Tower again) but not so the fabulously titled work of the 'Bluemantle Pursuivant of Arms in Ordinary' which is very much a live role today.
So, what's it all about? Well, one of the stops on our 'Queens, Crowns, Coronations and Executions' walk, is the College of Arms in Queen Victoria Street. Perhaps you have walked past the College's magnificent gates and thought "What goes on there"? And, in short, as well as being responsible for the granting of new coats of arms, the College maintains registers of arms, pedigrees, genealogies, Royal Licences, changes of name, and flags.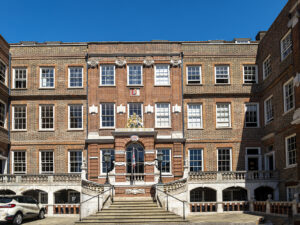 The heralds, besides having ceremonial duties, advise on all matters relating to the peerage and baronetage, precedence, honours, and ceremonial as well as national and community symbols including flags. We had the great good fortune to walk up to the College gates just as they were being locked by Mr Mark Scott, the youngest ever 'Bluemantle Pursuivant of Arms in Ordinary' who most kindly told the group about the work of the College and his role in particular.
As the 77th holder of this splendid title since its creation in 1414, he told us that his annual salary is £13.95. But he largely works as a freelance adviser to those seeking their own Coats of Arms, looking up family pedigrees and census records and helping to design shields.  Mark told us about how the coat of arms for Kate Middleton, a future queen, were created just before she married Prince William.  While this was not strictly necessary for her to marry into royalty, it gave Kate her own heraldic identity, so that her family's coat of arms could be impaled (combined) with Prince William's.  Mark told us how the Middleton family sat around their dining table and decided that acorns, representing the oak trees near their home, should appear on the family coat of arms.  Meeting Mark was one of the most special moments of a royally good walk (sorry)!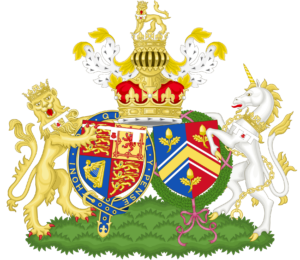 The film buffs amongst you might recall how James Bond goes into the College's beautiful building to get a crash-course in heraldry in 'On Her Majesty's Secret Service'. If the current Bluemantle Pursuivant had been around then, he'd have definitely been the right man to give 007 all the knowledge he needed. Thank you, Mark!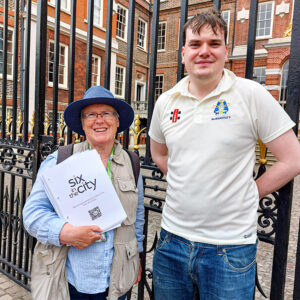 Queens, Crowns, Coronations and more Walk is available to book now