We are delighted to announce the launch of a new walk, Across the Pond: The London haunts of some famous Americans, in which you can hear the tales of some of the very many Americans who have visited and made such an impression on our corner of London. They are, of course, a very varied bunch. Below, we look at just 6 (it must be six!) Americans you may come across as you explore the City of London.
1. Virginia Dare 18 August 1587 – date of death unknown
In the delightful church of St Bride's in Fleet Street, you will find a modern sculpture of Virginia Dare, the first child of English parents born in the New World. Her parents, Ananias Dare and Eleanor White, were married at this church and went on to become part of the Roanoke colony in what is now North Carolina.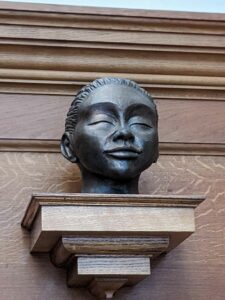 Her grandfather came back to Britain in 1590 for supplies, but when he returned, found that the colony had vanished. Nothing is known for certain what became of any of them, including Virginia herself. The sculpture was created by Clare Waterhouse in 1999.
2.William Penn 1644-1718
In the crypt of All Hallows by the Tower, (free access and it's always open) are some interesting original church records. Helpfully highlighted in one cabinet is the 1644 baptismal record of William Penn, founder of the province of Pennsylvania during the colonial era.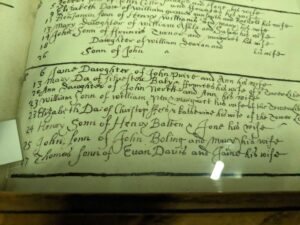 The font itself was given in 1697 to Christ Church in Philadelphia, where it remains. Penn, who was born at Tower Hill, was a writer, religious thinker and influential Quaker. The land was given to the Penn family by King Charles II to offset a debt by the crown to the Penn family.
Being an outspoken Quaker had led to Penn being imprisoned on several occasions, including an infamous case where the jury were fined and locked up for two days without food for returning a Not Guilty verdict, in defiance of the direction from the judge hearing the case!
The 'sylvania' part of the name (meaning woods or forest) was chosen by Penn himself. Penn gave Pennsylvania a frame of government that is seen as an important step in the development of American democracy, as it included the right to a free and fair trial by jury, (always a good thing!) freedom of religion, freedom from unjust imprisonment and free elections.
3. Phillis Wheatley 1753-1784
Tucked beside St Botolph without Aldgate in the east of the City, on 8 Aldgate, (now the location of the Dorsett City Hotel) is a plaque to a remarkable woman, Phillis Wheatley, who was the first African American author of a published book of poetry. This is where A. Bell Booksellers published Wheatley's first book in September 1773.
Wheatley was an enslaved person, who had been taught to read by the family she was enslaved to. They recognised her talent, and she became not only literate, but also a reader of Latin and Greek. She started writing poetry as a teenager and she and the Wheatley's son came to London to find a publisher for her work.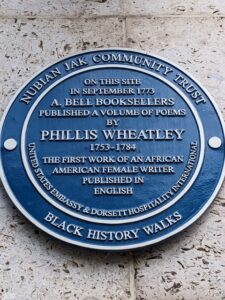 Here, she met the Lord Mayor of London and was due to meet King George III but had returned to Boston before the audience could take place. Back in what was still the British colonies she met George Washington. Phillis Wheatley was the first African American woman to make a living from her writing with her poetry widely read on both sides of the Atlantic. – an extraordinary story.
4. George Peabody 1795-1869
 You might walk past the seated statue of George Peabody, found at the back of the Royal Exchange, without too much of a second look, but Londoners have good cause to be very thankful to this American philanthropist. At a time when little decent housing was being built for the poor, George Peabody set up the Peabody Trust in 1862, and donated £500,000 to 'build neighbourhoods which people are proud to live in'. The trust is responsible for 55,000 properties today and is known as a developer with a focus on regeneration.
Peabody had moved to London to work as a banker and financier, and his firm went on to become J P Morgan and Co after his retirement. Peabody is credited with establishing modern philanthropy, with Andrew Carnegie, John D Rockefeller and Bill Gates following his example. The first dwellings built by the trust were just outside the City, in Commercial Street in Spitalfields. Peabody gave away an astonishing $8 million (the value then) in his lifetime.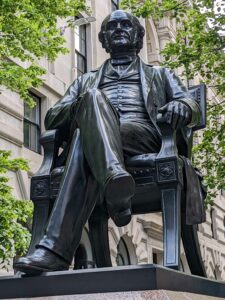 Queen Victoria wanted to bestow an honour on him, but he refused a baronetcy.  The sculpture is by American artist William Wetmore Story and was unveiled in Peabody's lifetime in 1869. A replica stands in Mount Vernon park, Baltimore, Maryland, next to the Peabody Institute there.
5. Paul Robeson 1898-1976
St Paul's Cathedral has seen many notable occasions, and a very well attended one took place on 12 October 1958 when Paul Robeson, the American actor, bass-baritone singer and political activist, became the first black man to read the Lesson and to sing there, at Evensong.
This was a fundraiser for the defence in the South African Treason Trials, in which 156 people, including Nelson Mandela, stood accused of treason.  It was standing room only inside and huge crowds spilled outside onto the Cathedral steps.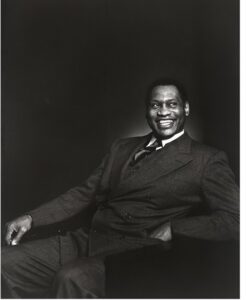 Robeson's career spanned over 40 years and included 350 performances of Show Boat at London's Theatre Royal Drury Lane, as well as the longest running Shakespeare play on Broadway, Othello in 1943.
6. Michael Bloomberg 1942 –
You can't really miss the Bloomberg European HQ, which take up an entire block just by Cannon Street station. The company of Michael Bloomberg, the former mayor of New York, is famous for the eponymous financial information terminals, but the building itself caused quite a stir when it opened in 2017.
It set a new standard for the number of public benefits from a private development. The list is quite extensive, including a new entrance to Bank station on the underground and the reinstatement of the ancient Budge Row, now known as Bloomberg Arcade, which had disappeared under the previous building on this site.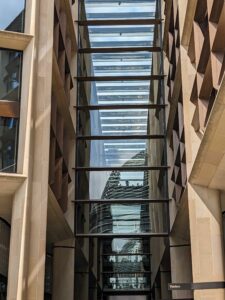 It is now filled with independent restaurants, as well as being an excellent cut through to Watling Street. There are 3 plazas, one at each end of the arcade, complete with public art and seating areas, and one by the main entrance.
Of note is another reinstatement, this time of the Temple of Mithras, a Roman ruin now accessible to the public as part of a free museum. The Bloomberg building won the prestigious architectural Stirling prize, as well as setting new heights in environmental criteria. With this building Michael Bloomberg made an extraordinary addition to the City.
If you want to hear about more Americans in London, come on our Across the Pond Walk